EPPO Alert List

– Trichoderma afroharzianum causing ear rot on maize
Why
Trichoderma species are filamentous fungi associated with many different substrates such as soil, rhizosphere, decaying plant debris, foliar environment, and some species have been isolated as endophytes. Several strains of Trichoderma have been shown to be beneficial to plants and are being used in agriculture to promote nutrient uptake and plant growth, or to control a wide range of soilborne plant pathogens (e.g Fusarium, Phytophthora, Rhizoctonia) on various crops. Interactions between Trichoderma species, plants and other soil microorganisms are complex and have an influence on their effectiveness as biocontrol agents or biostimulants. In addition, the taxonomy of Trichoderma has undergone many changes, and in particular several marketed Trichoderma strains have been recently reclassified (e.g. several T. harzianum strains have now been identified as T. afroharzianum). In most cases, the identification of Trichoderma species on the basis of morphological characteristics is difficult, and molecular tools are needed for a reliable detection and identification.
In 2018, severe fungal infestations on maize (Zea mays) cobs were observed in several experimental fields in Southern Germany and surprisingly, the causal agent was identified as T. afroharzianum. The presence of T. afroharzianum causing ear rot symptoms was also detected in a few cases in France and Italy. As this is the first time that a Trichoderma species is associated with a maize disease in Europe, JKI (Germany) suggested that T. afroharzianum is added to the EPPO Alert List.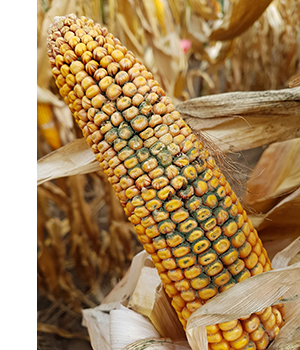 Trichoderma ear rot on maize
Courtesy: Annette Pfordt,
Georg-August-UniversityGöttingen (DE)
Where
T. afroharzianum is generally considered to be a widespread species present on several continents. As it is used as a biological control agent, its geographical distribution is rather difficult to establish precisely. Its association with a disease on maize has been reported in a limited number of countries. In the USA, similar symptoms of cob rot have been described in maize crops in association with Trichoderma species. In 2018 T. afroharzianum has been detected in three localities in Southern Germany (Bernburg in Saxony-Anhalt; Kuenzing, and Pocking in Bavaria). During the same studies, T. afroharzianum was also detected in symptomatic maize cobs from one locality in Southern France (Croix de Pardies, Landes department). In Italy, T. afroharzianum has been detected on maize kernels showing cob rot symptoms. These infected kernels had been collected in September 2020 in an experimental field in Carmagnola (Piemonte region).
Countries where symptoms have been observed on maize in association with Trichoderma spp. are listed below:
EPPO region: France, Germany, Italy (as T. afroharzianum).
North America: USA (as Trichoderma spp.).
On which plants
So far, T. afroharzianum has been associated with disease symptoms in the field on maize only. In inoculation studies, symptoms could be obtained on barley (Hordeum vulgare) and wheat (Triticum aestivum).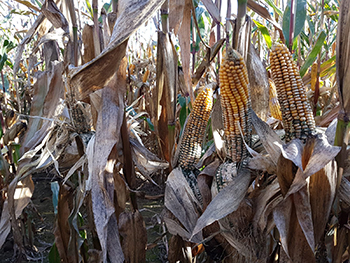 Natural infection in Southern Germany
Courtesy: Annette Pfordt, Georg-August-University Göttingen (DE)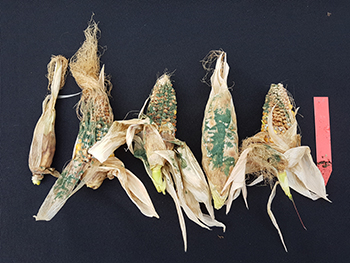 Artificial inoculation in the greenhouse
Courtesy: Annette Pfordt, Georg-August-University Göttingen (DE)
Damage
On maize, Trichoderma ear rot disease is characterized by the presence of white mycelium growing between the kernels and on the husks, with a massive production of green to grey-green conidia. In the field, symptoms are visible from the base to the middle part of the cob, affecting all kernels, and all layers of the husks. In some cases, premature ripening of the kernels has been observed. In inoculation experiments conducted in Germany, it was shown that T. afroharzianum could readily infect maize plant tissues and did not need prior mechanical injuries. Tested fungal strains presented variable levels of pathogenicity, and it could be shown that some strains currently used in biological control (Trichodex T39, and strain T12) could induce minor infection on maize.
Dissemination
The epidemiology of T. afroharzianum is largely unknown. In particular, it is not known how the conidia of Trichoderma reach and infect maize ears under field conditions, what are the sources of inoculum, and whether there are any alternative hosts.
Pathways
To be determined, unknown for the moment.
Possible risks
Maize is an economically important crop that is widely grown in the EPPO region. The emergence of a new disease associated with a fungus which is usually considered as a useful biological control agent or plant biostimulant suggests that there is a need for caution. Risks are currently difficult to assess considering the general lack of information about the biology and epidemiology of T. afroharzianum. Field monitoring to assess the distribution of the disease in the EPPO region and its economic impact on maize production would be needed. Further studies are also needed to better understand the pathogenicity of these T. afroharzianum strains, to provide relevant information for the registration process of these as biological control agents and to avoid potential risks that could occur from their use.
Sources
Boat MAB, Sameza ML, Iacomi B, Tchameni SN, Boyom FF (2020) Screening, identification and evaluation of Trichoderma spp. for biocontrol potential of common bean damping-off pathogens. Biocontrol Science and Technology 30(3), 228-242.
Chaverri P, Branco-Rocha F, Jaklitsch W, Gazis R, Degenkolb T, Samuels GJ (2015) Systematics of the Trichoderma harzianum species complex and the re-identification of commercial biocontrol strains. Mycologia 107(3),558-590.
Crop Protection Network (2016) An overview of ear rots. https://cropprotectionnetwork.org/publications/an-overview-of-ear-rots (last accessed 2023-03)
Druzhinina IS, Kubicek CP, Komoń-Zelazowska M, Mulaw TB, Bissett J (2010) The Trichoderma harzianum demon: complex speciation history resulting in coexistence of hypothetical biological species, recent agamospecies and numerous relict lineages. BMC Evolutionary Biology 10, 94. http://www.biomedcentral.com/1471-2148/10/94
Goh J, Nam B, Lee JS, Mun HY, Oh Y, Lee HB, Chung N, Choi YJ (2018) First report of six Trichoderma species isolated from freshwater environment in Korea. The Korean Journal of Mycology 46(3), 213-225. https://doi.org/10.4489/KJM.20180027
JKI (2022) Express PRA on Trichoderma afroharzianum. https://pflanzengesundheit.julius-kuehn.de/dokumente/upload/Trichoderma-afroharzianum_exprPRA-2.pdf
Kovács C, Csótó A, Pál K, Nagy A, Fekete E, Karaffa L, Kubicek CP, Sándor E (2021) The biocontrol potential of endophytic Trichoderma fungi isolated from Hungarian grapevines. Part I. Isolation, identification and in vitro studies. Pathogens 10, 1612. https://doi.org/10.3390/pathogens10121612
Munkvold GP, White DG (2016). Compendium of Corn Diseases, 4th Edn. St. Paul, MN: USA APS Press, 165 pp.
Personal communication with Gritta Schrader JKI (2022-02).
Pfordt A, Gaumann P, von Tiedemann A (2023) Pathogenicity of Trichoderma afroharzianum in cereal crops. Pathogens 12(7), 936. https://doi.org/10.3390/pathogens12070936
Pfordt A, Schiwek S, Karlovsky P, von Tiedemann A (2020) Trichoderma afroharzianum ear rot – A new disease on maize in Europe. Frontiers in Agronomy 2, 547758. https://doi.org/10.3389/fagro.2020.547758
Sanna M, Pugliese M, Gullino ML, Mezzalama M (2022) First report of Trichoderma afroharzianum causing seed rot on maize in Italy. Plant Disease (early view). https://doi.org/10.1094/PDIS-12-21-2697-PDN
Schmidt J, Dotson BR, Schmiderer L, van Tour A, Kumar B, Marttila S, Fredlund KM, Widell S, Rasmusson AG (2020) Substrate and plant genotype strongly influence the growth and gene expression response to Trichoderma afroharzianum T22 in sugar beet. Plants 9(8), 1005. https://doi.org/10.3390/plants9081005
Tyśkiewicz R, Nowak A, Ozimek E, Jaroszuk-Ściseł J (2022) Trichoderma: the current status of its application in agriculture for the biocontrol of fungal phytopathogens and stimulation of plant growth. International Journal of Molecular Sciences 23(4), 2329. https://doi.org/10.3390/ijms23042329
EPPO RS 2022/087, 2023/194