EPPO Standards
General background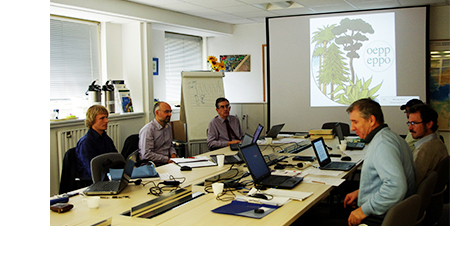 As a result of the work undertaken by the different technical bodies of the Organization (e.g. Panels and Working Parties), EPPO prepares Standards covering its two main fields of activities (plant protection products and phytosanitary measures). EPPO Standards are recommendations that are addressed to the NPPOs of EPPO member countries. EPPO Standards are also 'Regional Standards' in the sense given by the International Plant Protection Convention (IPPC).
In order to ensure international acceptance, draft standards go through an approval procedure, during which all EPPO member countries have the opportunity to express their views. Final decisions are obtained by consensus and EPPO Standards are officially adopted by the EPPO Council. Following approval, EPPO Standards are published in the EPPO Bulletin and can also be retrieved via this website (via links to the EPPO Bulletin website). In addition, they are stored as PDF documents in the EPPO Global Database. All EPPO Standards except PP1 Standards can be obtained free of charge. PP1 Standards are stored in a dedicated database and registration is required to access specific PP1 standards.
How do I know that new /revised EPPO Standards are available? S​​​​​ubscribe to the 'Standards' mailing list

How and where can I find the latest version of an EPPO Standard?

List of EPPO Standards
EPPO Standards have been separated into two main series: PM Standards on phytosanitary measures (covering regulatory measures, treatments, PRA, diagnostics, certification, and safe use of biological control) and PP Standards on plant protection products
EPPO Standards on phytosanitary measures
PM 1 – General Phytosanitary Measures: recommendations on the use of phytosanitary certificates, the EPPO A1 and A2 Lists of pests recommended for regulation as quarantine pests, and standards on Arthurdendyus triangulatus.
PM 2 – Pest-specific Phytosanitary Measures: all Standards in this series (previously called SQRs, Specific Quarantine Requirements) are now withdrawn.
PM 3 – Phytosanitary Procedures: methods to be followed for performing inspections, tests or treatments of commodities moving in trade, or surveys of quarantine pests.
PM 4 – Production of Healthy Plants for Planting: steps to be followed for the production of vegetatively propagated planting material whose health status is attested by an official certificate (ornamentals, fruit crops, and potatoes).
PM 5 – Pest Risk Analysis: detailed guidance on the analysis of risk presented by certain pests, in relation to their potential status as quarantine pests or regulated non-quarantine pests.
PM 6 – Safe use of Biological Control: guidelines for assessing and reducing the risks associated with various aspects of the introduction and use of biological control agents and, as appropriate, for comparing them with the benefits in terms of efficacy.
PM 7 – Diagnostics: internationally agreed diagnostic protocols for regulated pests and horizontal standards on diagnostic issues.
PM 8 – Commodity-specific Phytosanitary Measures: recommendations about phytosanitary measures which should be used or required by EPPO member countries for certain commodities moving in trade to prevent introduction and spread of quarantine pests.
PM 9 – National Regulatory Control Systems: procedures to be followed for official control with the aim of containing and eradicating pests.
PM 10 – Phytosanitary Treatments: methods to be followed for treatments of commodities and treatments of crops for containment or eradication of regulated pests.
EPPO Standards on plant protection products
PP 1 – Efficacy Evaluation of Plant Protection Products: Standards on how to evaluate the efficacy of insecticides, acaricides, fungicides, herbicides, plant growth regulators and other products.
PP 2 – Good Plant Protection Practice: Standards on optimal practice in protecting specific crops against their pests, including pathogens and weeds.
PP 3 – Environmental Risk Assessment of Plant Protection Products: These Standards on the assessment of potential risks of environmental damage which may be caused by the use of plant protection products were withdrawn in 2018.
Standards approved by EPPO Council in 2023-09
At its last session (Paris, 2023-09-27/28), the EPPO Council approved the following draft standards. All of them are now in press and will be published in due course in the EPPO Bulletin. They will also be accessible from this website and stored in the EPPO Global Database.
EPPO Standards PM 1 - General Phytosanitary Measures
Additions to the A1 List (pests absent from the EPPO region)
- Meloidogyne ethiopica
- Spodoptera ornithogalli
- Spodoptera praefica
- Tetranychus mexicanus
Additions to the A2 List (pests locally present in the EPPO region)
- Ageratina adenophora
- Crisicoccus pini
- Meloidogyne luci
- Meloidogyne graminicola
Transfer from the A1 to the A2 List
- Scirtothrips citri
EPPO Standards PM 3 - Phytosanitary procedures
Inspection of places of production – Citrus plants for planting – NEW

Production of pathogen-free minitubers of potato (corrigendum to PM 3/63 to revise definition of minitubers of potato)

WITHDRAWAL of PM 3/67(1) Guidelines for the management of invasive alien plants or potentially invasive alien plants which are intended for import or have been intentionally imported
EPPO Standards PM 4 - Production of healthy plants for planting
Certification scheme for seed potatoes (revision of PM 4/28)
EPPO Standards PM 6 - Safe use of biological control
First import of non-indigenous biological control agents for research under confined conditions (revision of PM 6/1)

Host specificity testing of non-indigenous (classical) biological control agents used against invasive alien plants – NEW
EPPO Standards PM 7 - Diagnostic protocols for regulated pests
Generic detection of phytoplasmas (corrigendum to PM 7/133 to delete the reference to PM 7/61)

Guidelines on the main tasks of Reference Laboratories for official plant pest diagnostics (republication of corrected PM 7/131 with reference to EURLs)

WITHDRAWAL PM 7/61(1) 'Candidatus phytoplasma aurantifoliae'
The Council was informed that the following diagnostic protocols have been approved following the fast track procedure since the last Council meeting:
PM 7/new Agrilus planipennis – NEW

PM 7/24 Xylella fastidiosa (revision)

PM 7/new Begomoviruses – NEW

PM 7/031 Citrus tristeza virus (revision)

PM 7/146 Tomato brown rugose fruit virus

PM 7/new Mechanical inoculation of test plants – NEW
PM 7/new Pectobacterium and Dickeya spp. – NEW
PM 7/44 Xanthomonas citri pv. citri and Xanthomonas citri pv. aurantifolii (revision)
PM 7/04 Bursaphelenchus xylophilus (revision)
PM 7/065 Xanthomonas fragariae (revision)
PM 7/43 Pseudomonas syringae pv. persicae (revision)
EPPO Standards PM 9 - National regulatory control systems
Clavibacter sepedonicus (revision of PM 9/2)

Ralstonia solanacearum (revision of PM 9/3)
EPPO Standards PP 1 - Efficacy Evaluation of Plant Protection Products
- Grapevine mealybugs – NEW
- Evaluation of plant defence inducers against grapevine flavescence dorée phytoplasma – NEW
- Revision of PP 1/143 Potato desiccants
- Revision of PP 1/7 Cydia pomonella
- Revision of PP 1/72 Planococcus citri and Delottococcus aberiae
- Revision of PP 1/122 Phytophthora nicotianae var. parasitica and other Phytophthora species causing canker on citrus
---
EPPO approval procedure of Standards
The flow diagram below summarizes the general approval procedure of EPPO Standards, but more detailed information can be found in a paper 'Procedure for preparation and approval of EPPO Standards' published in the EPPO Bulletin in 2019.