EPPO activities on diagnostics
Since 1998, EPPO has established a work programme in the area of diagnostics to harmonize procedures across the EPPO region. This programme mainly focuses on the detection/identification of pests which are regulated as quarantine pests. The different activities conducted in this framework are described below.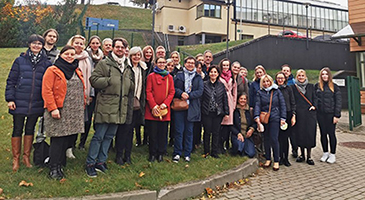 Panel on Diagnostics in Bacteriology
(Lithuania, 2022-10-11/13)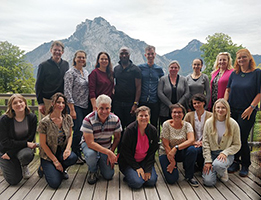 Panel on Diagnostics in Mycology
(Austria, 2022-09-07/09)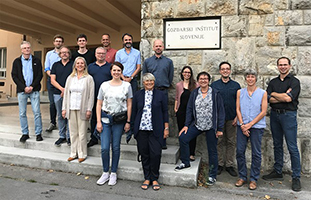 Panel on Diagnostics in Entomology
(Slovenia, 2022-09-14/16)
EPPO diagnostic Standards
More than 140 EPPO diagnostic Standards have been published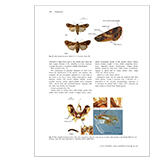 Since 1998, more than 150 EPPO diagnostic Standards have been prepared by EPPO. All have been published in the EPPO Bulletin and are also stored in the EPPO Global Database. This set of Standards includes horizontal and pest-specific Standards.
- Horizontal Standards include Standards related to quality assurance issues (e.g. quality management, accreditation, validation of tests, production of reference material), Standards on how to perform specific methods, such as ELISA test for viruses, DNA barcoding as an identification tool for a number of regulated pests, High Throughput Sequencing (HTS), etc.
- Pest-specific diagnostic Standards (Diagnostic protocols) are related to specific pests (a single species or groups of species) and provide the guidance necessary for an expert or competent staff who are specifically trained to detect and identify these pests by a single test or combination of tests.
View and download currently approved EPPO diagnostic protocols
How EPPO diagnostic Standards are prepared?
Preparation
The preparation of Standards involves close collaboration between different EPPO Panels involved in diagnostics. These Panels are composed of diagnostic experts nominated by the NPPOs of the EPPO member countries. The EPPO Panels involved in diagnostics are the following (click on the links to view their composition):
Drafts of pest specific Diagnostic Standards (Diagnostic protocols) are initially prepared by an individual expert or a group of experts (drafting team) according to a common format which ensures that the draft contains all necessary information to detect and identify a particular pest (instructions for authors

). Validation data is now also provided for most of the tests included in the diagnostic protocols. The draft protocols are reviewed by the relevant Panels and submitted for consultation to all EPPO member countries.
For horizontal Standards no specific format exists but as for pest Specific ones, drafts are usually prepared by an individual expert or a drafting group.
Approval
As it is the case for all EPPO Standards, diagnostic Standards are officially approved and then published in the EPPO Bulletin. A specific procedure is usually used for pest specific Diagnostic Standards (Diagnostic protocols).
Evaluation of the need for revision
For each pest-specific diagnostic protocol one (or more) expert(s) from the relevant Panel is/are responsible for reviewing the new literature for this pest before each Panel meeting and informing the EPPO Secretariat if there is a need to revise the protocol (e.g. due to new or improved tests being developed which should be included, or changes in the taxonomy of the pest).
EPPO pictorial glossary of morphological terms in nematology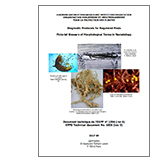 Since 2013, the EPPO Panel on Diagnostics in Nematology regularly updates its pictorial glossary of morphological terms in nematology. This document lists all nematological terms used in the EPPO diagnostic protocols on plant parasitic nematodes with their definitions.
Pictorial Glossary of Morphological Terms in Nematology (2023 version)
EPPO databases on diagnostics
EPPO database on diagnostic expertise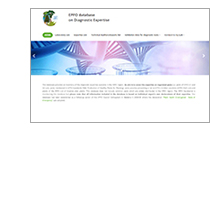 In 2004, EPPO Council stressed that the implementation of phytosanitary regulations for quarantine pests was jeopardized by decreasing knowledge in plant protection and made an official declaration (Plant Health Endangered, also known as the 'Madeira declaration'). The Panel on Diagnostics proposed that an inventory should be made of the available expertise on diagnostics in Europe. A database on Diagnostic Expertise was then created to allow identification of experts who could provide diagnosis of regulated species or help in the identification of new or difficult species. Experts from more than 100 diagnostic laboratories of the EPPO region have provided details about the pests they can detect/identify and the methods they use. The database also provides an inventory of validation data (as described in PM 7/98) for tests. EPPO member countries are encouraged to continue to provide data on their laboratories and expertise.
In May 2020, EPPO launched an enhanced version of the database. The new version was prepared in the framework of an EU funded project VALITEST and the outcome of the redesign is a more searchable and user-friendly database.
EPPO-Q-bank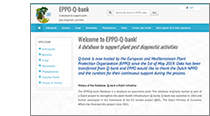 EPPO-Q-bank is a database to support diagnostic activities on plant pests which was transferred to EPPO and officially launched in May 2019. The primary aim of EPPO-Q-bank is to host sequence data for a number of pests, as well as to provide information on biological material, in particular from where this material may be obtained. Information is provided per discipline (arthropods, bacteria, fungi, nematodes, phytoplasmas, viruses & viroids, and invasive plants).
Workshops and Conferences on Diagnostics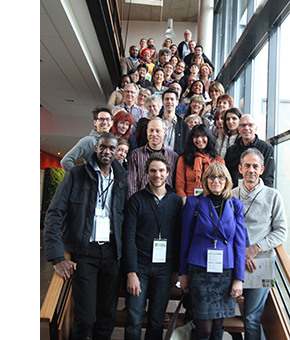 Since 1985, EPPO has organized a series of workshops and conferences on diagnostics.
Conferences on diagnostics (1985, 1994, 2000 and 2012 in NL - 2009 in GB - 2015 in FR)
Workshops on Quality Assurance (2007 in DK - 2009 and 2014 in GB – 2020 (online))
Workshop for Heads of laboratories (2011 in AT - 2013 in TN - 2015 in IT – 2019 in FR – 2023 in PT)
Workshop on 'cut-off data' for real-time PCR (2013 in FR)
Q-collect 2nd project Workshop (Rome, 2015-09-08/09)
Testa - EPPO Conference on diagnostics for plant pests and associated workshops (Angers, FR, 2015-11-30/12-04)

Workshop on Flexible Scope (Wageningen, NL, 2017-06-26/28)

EPPO Workshop on Maintenance of Nematode Collections (Wageningen, NL, 2017-09-05/06)

Workshop on the use of Next Generation Sequencing technologies for plant pest diagnostics (Bari, IT, 2017-11-22/23)
Summaries of the recent conferences and workshops can be viewed on this website
Partnerships and special projects
EPPO and IPPC Diagnostic protocols
EPPO Panels are reviewing Diagnostic protocols prepared at IPPC level to prepare regional positions to be used by EPPO Countries during the IPPC consultations.
EPPO staff has regularly been invited to attend the face to face meetings of the IPPC Technical Panel on Diagnostic Protocols (and several meetings of that Panel have been hosted in the EPPO Headquarters).
The EPPO and the IPPC Secretariats and members of the Technical Panel on Diagnostic Protocols (TPDP) organized jointly a scientific symposium entitled 'Plant pests diagnostic: its importance and its relation to food security' during the first International Plant Health Conference which took place in London on 2022-09-21/23.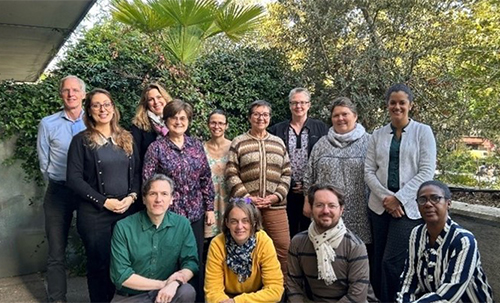 IPPC Technical Panel on Diagnostic Protocols (TPDP) members and participants
(EPPO headquarters, Paris, February 2018)
Euphresco
EPPO hosts and contributes to Euphresco.
European Commission
EPPO has a close collaboration with the European Commission (EC) and an expert from the EC attends all EPPO Diagnostic Panels.
European Union reference laboratories
EPPO has a close collaboration with the 5 European Union Reference Laboratories (EURLs) with the objective to work in synergy and avoid the duplication of work. An expert from each EURL attends the relevant EPPO Diagnostic Panels and the EPPO Secretariat is invited to the workshops organised by the EURLs. Some EURL experts are also involved in other EPPO activities (e.g. in the curation of EPPO-Q-bank).
European Co-operation for Accreditation (EA)
The European Co-operation for Accreditation (EA) is the European network of nationally recognised accreditation bodies located in the European geographical area. In 2009, a joint communiqué was signed by EPPO and EA stating that 'EA will recommend that assessors from Accreditation Bodies take note of EPPO documents when evaluating plant pest diagnostic laboratories'. Since 2011-01 EPPO is a 'recognized stakeholder' for EA. A revised version of this communiqué was signed in October 2018.
Revised joint communiqué between EPPO and EA (2018-10-10)
European Association of Phytobacteriologists
EPPO collaborates with the European Association of Phytobacteriologists (EAP) and the Panel on Diagnostics in Bacteriology and the EAP regularly have back-to-back meetings.
European Mycological Network
EPPO collaborates with the European Mycological Network (EMN) and the Panel on Diagnostics in Mycology and the EMN regularly have back-to-back meetings.
Special projects
In addition to its regular programme of activities, EPPO participates in various projects that are conducted over a fixed period of time and that may be funded by the Organization itself, some of its members, or other organizations. In the field of diagnostics, EPPO has participated in several projects, such as Q-detect, Q-collect, TESTA, EMPHASIS, XF-ACTORS and VALITEST. EPPO is currently a partner in the BeXyl project.
Useful references