EPPO Database on PP1 Standards - Efficacy Evaluation of Plant Protection Products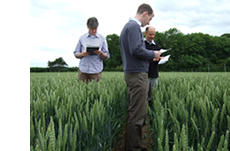 The EPPO standards for the efficacy evaluation of plant protection products (PP1) describe the conduct of trials carried out to assess the efficacy of plant protection products against specific pests. They are addressed to all institutions, official registration authorities, public institutes or private firms carrying out such trials. In Europe, they are now considered as reference documents in Commission Regulation (EU) No 545/2011 of 10 June 2011, implementing Regulation (EC) No 1107/2009 of the European Parliament and of the Council as regards the data requirements for plant protection products.
Access the EPPO Database on PP1 Standards – https://pp1.eppo.int/
Content
The EPPO database contains the electronic versions (pdf files) of the whole series of EPPO PP1 Standards (more than 300 standards covering a wide range of crops and pests - view the full list of approved standards). This database includes new or revised standards, and consolidates all existing standards, so that the recent updates are incorporated and superseded standards are excluded. All Standards are available in English, most of them in French, and for few of them a Russian translation is provided. In addition to the texts of the Standards, the database includes an introduction about the history and the development of the whole EPPO programme on efficacy evaluation of plant protection products. The database includes all Standards currently approved by the EPPO Council.
Search tools
All Standards can be easily retrieved as PDF files by searching for:
a pest or a crop by its scientific name, common name, or its EPPO Code,
a Standard by its number,
a word or a group of words in the title of the Standard (e.g. 'minor uses', 'resistance', 'aphids').
Online subscription
All General Standards (e.g. design, conduct, reporting and analysis of trials, phytotoxicity, effects on succeeding crops, analysis of resistance risk, minor uses) can be accessed free of charge. Access to Specific Standards (e.g. aphids on potato, weeds in cereals) is provided for an annual fee.