Communication kits
- Templates for pest-specific posters and leaflets –
The objective of this work was to provide NPPOs with templates that could be easily adapted to different types of pest-specific information campaigns (e.g. early warning, pest reporting, containment and eradication programmes). For posters, several possible titles and types of contents have been proposed using three examples: Agrilus planipennis, Popillia japonica and huanglongbing. The example of Popillia japonica has been used to prepare a template leaflet, largely based on a leaflet prepared by Italy. NPPOs are expected to personalize and translate these templates to adapt them to their own needs and branding. All files have been prepared with PowerPoint in order to be easily modifiable and can be downloaded here. Virtually, all elements (title, pictures, texts, colours) can be changed but the acknowledgment to EPPO should remain (logo and bottom line on the poster, logos on the leaflet). When preparing a poster, the following can be recommended: use an eye catching picture of the pest, limit the amount of text as much as possible, give a clear contact point.
View feed-back provided by NPPOs on the use of EPPO templates in their national pest-specific information campaigns
More feed-back from NPPOs is most welcome. Please send us pictures and translated documents hq@eppo.int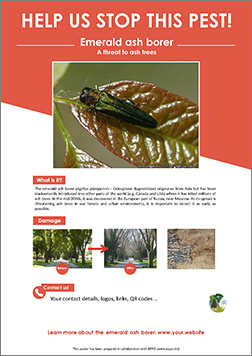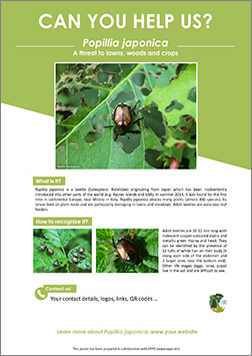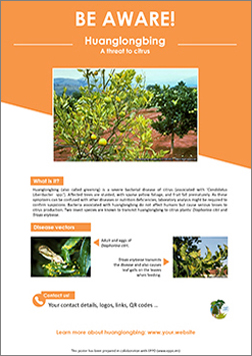 Download poster templates (all in a single PowerPoint file)
English version | French version

Download leaflet template (PowerPoint file – English only)
The EPPO Secretariat wishes to thank the members of the EPPO Panel on Plant Protection Information
for their valuable help during the preparation of these documents.
---
New templates