EPPO Alert List

– Atherigona reversura (Diptera: Muscidae)
Bermudagrass stem maggot
Why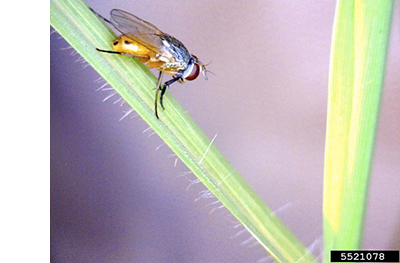 Atherigona reversura (Diptera: Muscidae) originates from Asia and its larvae mainly feed on bermudagrass (Cynodon dactylon). Over the last decade, this insect has been introduced into the Americas where it rapidly spread. As A. reversura has recently been intercepted in trade in the EPPO region, the NPPO of the Netherlands suggested that it could be added to the EPPO Alert List. The pest was first intercepted by the Netherlands in October 2016 in a consignment of Momordica fruit (as Momordica species are not host plants, this was considered to be a secondary infestation), and a second time on a small consignment consisting of bundles of rootless bermudagrass imported from Sri Lanka.
Will Hudson, University of Georgia (US)
Bugwood.org
Where
A. reversura originates from Asia and has been recorded in the Americas since the 2010s. The source of these introductions is unknown.
EPPO region: Absent.
Asia: China (Guangdong, Hebei, Jiangsu, Sichuan), India (Andhra Pradesh, Assam, Delhi, Maharashtra, Sikkim, Uttar Pradesh, West Bengal), Indonesia (Java, Nusa Tenggara, Sulawesi), Japan (Kyushu), Malaysia (Sabah, West), Myanmar, Oman, Philippines, Saudi Arabia, Sri Lanka, Taiwan.
North America: Canada (Ontario), Mexico, USA (Alabama, Arizona, California, Colorado, Delaware, Florida, Georgia, Hawaii, Illinois, Kansas, Louisiana, Maryland, Massachusetts, Mississippi, Nebraska, New Jersey, New Mexico, New York, North Carolina, Oklahoma, Pennsylvania, South Carolina, Tennessee, Texas, Virginia).
South America: Argentina, Brazil (Santa Catarina), Uruguay.
Oceania: Papua New Guinea.
On which plants
Cynodon dactylon is the main host, but according to the literature A. reversura has been reported on other Poaceae, such as Echinochloa colonum, Eleusine coracana, Eriochloa procera, Sehima nervosum, Sorghum bicolor, and Zea mays.
Damage
In the Americas, A. reversura is reported to infest C. dactylon in turf, pastures and hay fields, and most published observations of damage have been made in Southern USA. Eggs are laid on the stem of C. dactylon near a node. Larvae bore into the stem and their feeding activity results in the death of the upper 1 to 3 leaves; the lower part of the plant remaining green. Attacked leaves can easily be pulled out of the leaf whorl. Heavily infested fields appear as if they had been damaged by frost. In Southern USA, economic damage has been reported in hay fields, as C. dactylon is widely grown as a forage crop due to its tolerance to hot climate conditions. In Southern Georgia (US), in some years hay producers have reported up to 80% yield loss in C. dactylon fields at the end of the summer. Studies conducted in Texas have also shown a negative impact of A. reversura on C. dactylon forage yield (estimated at nearly 10% kg/ha). In pastures and turf, grazing and mowing prevent the development of extensive insect populations.
Adults are small flies (3-3.5 mm long), with a yellow body. Larvae are yellowish (approximately 3 mm long). Pupation takes place on the soil. In Southern USA, A. reversura has a short life cycle with multiple generations. The life cycle from egg to adult takes 3-4 weeks, with 2-3 weeks spent in the grass stem. However, there is a general lack of data on the biology of the pest.
Dissemination
Adults can fly but there is no information on natural spread distances. Over long distances, the pest can be transported on its host plants, in particular on hay. Transport on turf is probably limited, as mowing normally eliminates the top part of the plant where larvae are found.
Pathways
Hay containing host plants of A. reversura from countries where the pest occurs, soil?
Possible risks
Bermudagrass, C. dactylon, occurs on all continents and is widely used for pastures and turf, in particular in the Southern part of the EPPO region, as it is highly tolerant to drought and heavy grazing. However, as C. dactylon is a very competitive species, it is also a weed in many arable crops (e.g. maize) and fruit crops (e.g. grapevine). A. reversura has shown an invasive behaviour in its newly invaded range where it rapidly spread. In addition, it has been intercepted in the EPPO region on a consignment of C. dactylon, demonstrating that it can move in trade on commodities that are currently not subject to any specific phytosanitary requirements. However, data is generally lacking on the biology of the pest and its potential of establishment in the EPPO region. Considering the losses that A. reversura can inflict to pastures and hay production, as well as its invasive behaviour, it is desirable to avoid its introduction into the EPPO region.
Sources
Baxter LL, Anderson WF, Hudson WG, Hancock DW, Prevatt CG, Moore Z (2019) Quantifying the damage potential of the bermudagrass stem maggot. Crop Science 59(5), 2280-2286.
Corriher-Olson V, Knutson A, Mitchell F (2021) Economic injury level for bermudagrass stem maggot (Diptera: Muscidae) in bermudagrass forage production in Texas. Proceedings of the XXIV International Grassland Congress (teleconference, 2021-10-25/29), 7 pp.
INTERNET
- Feedipedia. Animal feed resources information system. Bermuda grass (Cynodon dactylon). https://www.feedipedia.org/node/471
- University of Florida. IFAS Extension (2017) Bermudagrass Stem Maggot—A New Pest in Florida by A. Blount, T. Wilson, J. Ferrell, R. Mizell and J. Bosques. https://edis.ifas.ufl.edu/publication/AG384
Grzywacz A, Pape T, Hudson WG, Gomez S (2013) Morphology of immature stages of Atherigona reversura (Diptera: Muscidae), with notes on the recent invasion of North America. Journal of Natural History 47(15-16),1055-1067.
Knutson AE, Mitchell F (2019) Economic injury level for bermudagrass stem maggot (Diptera: Muscidae) in bermudagrass forage production in Texas. Journal of Economic Entomology 112(5), 2215-2221.
Netherlands Food and Consumer Product Safety Authority (2021) Quick scan Atherigona reversura. https://english.nvwa.nl/documents/plant/plant-health/pest-risk-analysis/documents/quick-scan-atherigona-reversura
Patitucci LD, Dufek MI, Mulieri PR (2016) First reports of the invasive pest Bermudagrass stem maggot, Atherigona reversura Villeneuve, 1936 (Diptera: Muscidae), in South America. Check List 12(4), 1928. http://dx.doi.org/10.15560/12.4.1928
Pont AC, Magpayo FR (1995) Muscid shoot-flies of the Philippine Islands (Diptera, Muscidae, genus Atherigona Rondani). Bulletin of Entomological Research Supplement 3, 1–123.
Remedios-De León M, Patitucci Luciano D, Morelli E (2021) First report of Atherigona reversura Villeneuve, 1936 (Diptera, Muscidae) in Uruguay. Check List 17(2), 719–722. https://doi.org/10.15560/17.2.719
Ribeiro LD, Netto AC, Jochims F, Haseyama KL, de Carvalho CJ (2016) First record of Atherigona reversura Villeneuve (Diptera: Muscidae) feeding on Bermudagrass (Cynodon dactylon cv. Jiggs, Poaceae) in Brazil: morphological and molecular tools for identification. Revista Brasileira de Entomologia 60, 270-274.
Savage J (2016) First Canadian record of the Bermuda grass stem maggot, Atherigona reversura (Diptera: Muscidae). JESO 147, 3-6.
EPPO RS 2022/107