EPPO Alert List

– Houttuynia cordata (Saururaceae)
Why
Houttuynia cordata (Saururaceae) is commonly utilised as a garden ornamental in the EPPO region. In some areas where the plant is grown it has shown invasive tendencies. The Panel on Invasive Alien Plants is seeking further information on the occurrence and behaviour of H. cordata in the EPPO region, outside of gardens and planted areas.
Geographical distribution
EPPO region: Austria, Belgium, Czech Republic, Hungary, Italy, United Kingdom.
Asia (native): China (Anhui, Fujian, Gansu, Guangdong, Guangxi, Guizhou, Hainan, Hubei, Jiangxi, Shaanxi, Sichuan), Korean peninsula, Myanmar.
North America: USA (Florida, Louisiana, Pennsylvania).
Oceania: New Zealand.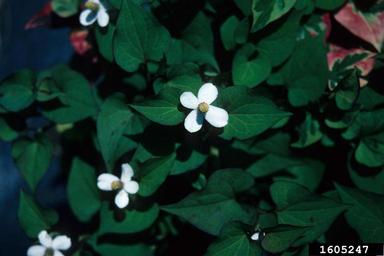 John Ruter, University of Georgia, Bugwood.org
Morphology
Houttuynia cordata is a perennial creeping stoloniferous, rhizomatous herb 30-60 cm high, with thin, spreading rhizomes. The stems are green or sometimes purplish red, and either smooth or pubescent on the nodes. The lower parts of the leaf stalks form a sheath round the stem. The leaves are usually heart-shaped, 4-10 cm long and 2.5-6.0 cm wide, and purple underneath. The flowers are small, crowded into a short spike around 2 cm long, with four white, petal-like bracts at the base. The stamens usually degenerate, and the fruits are apomictic, i.e. they develop seeds without being fertilized.
Biology and Ecology
The species can reproduce by seed and vegetatively by the division of plant fragments that can take root and form new infestations.
Habitats
Houttuynia cordata can be found growing in moist habitats. In the municipality of Palazzolo dello Stella (Northeast Italy), H. cordata occurs along the banks of the river Stella. Here it is also found growing in disturbed riverine woodland. H. cordata can be found in urban and semi-urban habitats where it has escaped from gardens.
Pathways for movement
Horticulture is the main pathway for movement in the EPPO region. In the native range (Asia), it is also utilised as a medicinal plant and as a vegetable. These uses could also act as pathways for entry. Natural spread can occur locally. In Italy, a significant expansion of the initial population was observed over a two-year period. In July 2019, the population occupied less than 1 m2 with less than 10 shoots, while in June 2020, the population was formed by 3–4 stands, occupying at least 50 m2 with more than 70 shoots.
Impacts
Houttuynia cordata has the potential to displace native plant species in moist forests and wetland habitats where it forms dense mats on the ground. To-date there are no scientific studies to evaluate the impact of the species on native biodiversity and ecosystem services.
Control
There is no specific information on control. Any management should remove all plant parts and exhaust the seedbank.
Sources
Liccari F, Boscutti F, Sigura M, Tordoni E, Carpanelli A, Valecic M, Bacaro G (2021) First report of naturalization of Houttuynia cordata Thunb. 1783 (Saururaceae) in Italy. Rendiconti Lincei. Scienze Fisiche e Naturali. https://doi.org/10.1007/s12210-021-00986-2