Ad hoc EPPO Workshop on Carrot Fly (Psila rosae)
Lelystad, NL, 2009-02-02/04
Introduction
Carrot fly (Psila rosae) is a serious and widespread pest. It causes most damage to carrots, but can also affect the roots of related crops such as parsnip, celery and parsley. Pest management systems have been developed to tackle this problem: these require a clear understanding of the biology and activity of the pest (which has up to 3 generations per year depending on growing latitude), and using intervention and cultural control methods effectively. Over the forthcoming years, the effectiveness of control strategies is likely to be reduced by the removal of plant protection products, currently available on the market.
In response to the implications of this problem a technical workshop was organized on request of the EPPO General Standards Panel and agreed at the EPPO Working Party for Plant Protection Products. The workshop was organized in collaboration with the Dutch Plant Protection Service and the EU Expert Group on Minor Uses and held on 2009-02-02/04 at Lelystad Research Station (Netherlands).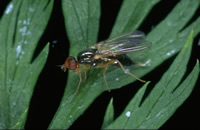 Courtesy: Dr Rosemary Collier Warwick HRI (GB)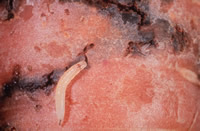 Courtesy: Dr Rosemary Collier Warwick HRI (GB)
Organization
The participants were welcomed by Mr Laurens Smits, Head Division Plant Health Strategy and Development, Dutch Plant Protection Service (NPPO). Special thanks are due to Mr Piet Spoorenberg and his colleagues for their excellent organization of the meeting. The EPPO Secretariat would also like to thank the programme organizing committee who helped in structuring this workshop and finalizing the conclusions: Susanne Sütterlin (Dutch Ministry of Agriculture), Rosemary Collier (Warwick HRI), Ann de Cock (FPS, Belgium), Piet Spoorenberg (Wageningen UR), Martin Hommes, (Julius Kühn-Institut), Mario Wick (Julius Kühn-Institut), and Bernd Springer (Bayer CropScience).
There were 42 participants from 11 EPPO countries, including delegates from research institutions, national regulatory bodies, agricultural advisory organizations, agrochemical companies, seed production companies, carrot breeders and growers representatives.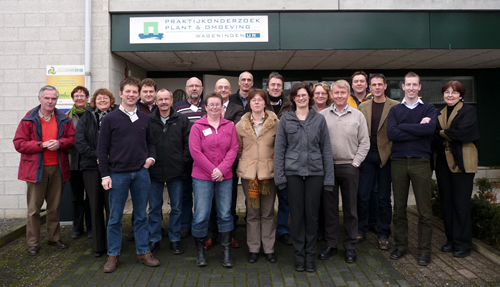 Workshop aims
The aim of this ad hoc workshop was to share latest information on the biology and life cycle of Psila rosae; explore current and potential strategies to control carrot fly; share perspectives of the carrot fly situation and control systems in other EPPO countries; learn from the experiences of others; to identify issues facing growers; to recommend the key components of current best practice strategy for integrated and sustainable carrot fly management; and to discuss and identify future requirements and research necessary to support the development and implementation of successful control strategies.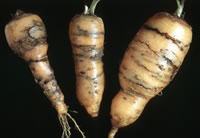 Carrot fly questionnaire
Prior to the meeting, a questionnaire was developed by Warwick HRI, and distributed to EPPO member countries. The results were collated and used to present an overview of the national carrot fly situations. In the questionnaire, experts were also asked to state the 'key challenges' that they faced with carrot fly control. The responses fell into three general categories and these were used to define working groups to address carrot fly control issues on the second and third days of the workshop. The three group topics were:
1. Management/control strategies
2. Monitoring and forecasting
3. Plant protection products, breeding and policy
Workshop proceedings and conclusions
The workshop was run as a series of lectures, followed by group and plenary discussion sessions. The three working groups were set the tasks of producing carrot fly control strategies; overviews of mitigating solutions; short term and long term wish lists; plus actions, facilitative measures and research initiatives.
Introduction
EPPO Workshop on carrot fly (Psila rosae) - Introduction
Vlasta Zlof, EPPO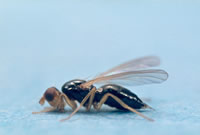 Keynote presentations
The biology and life cycle of the carrot fly (Psila rosae)
Rosemary Collier, Warwick HRI, UK
State of the art regarding carrot fly control in practice and possibilities in the future for Western Europe
Albert Ester, Wageningen UR Applied Plant Research, NL
Supervised control of the carrot fly in the Netherlands; insights from a dirty dataset
Tom Groot, de Groene Vlieg B.V, NL
Breeding carrots resistant to carrot fly
Jurjen Berg, Rijk Zwaan, NL
A summary of the information collated from the carrot fly questionnaire
Rosemary Collier, Warwick HRI, UK
Country presentations
Forecasting and monitoring of the carrot fly (Psila rosae) in Finland
Irmeli Markkula, MTT Agrifood Research Finland, FI
Strategies for the control of carrot fly in Sweden
Bodil Jönsson, Swedish Board of Agriculture, SE
Carrot fly control in Norway
Tor J. Johansen, Bioforsk, Norwegian Institute for Agricultural and Environmental Research, NO
Current research on carrot fly (Psila rosae) in the UK
Rosemary Collier, Warwick HRI, UK
Carrot fly problems in Denmark
Klaus Paaske, Aarhus University, DK
Carrot fly control in Germany (pdf)
Martin Holmes, Julius Kühn Institut (JKI), DE
Carrot fly control in Switzerland – currently pursued strategies and upcoming approaches (pdf)
Robert Baur, Extension Service Vegetables, Agroscope Changins - Wädenswil Research Station ACW, CH
Carrot fly, Psila rosae Fab. (Diptera: Psilidae): seeking new means of control in France
François Villeneuve, CTIFL, FR
The carrot fly situation in Belgium (pdf)
Danny Callens, Provincial Research and Advisory Centre for Agriculture and Horticulture (POVLT), BE
Results from the Working Groups
The results of the working groups were finally distilled by the participants to form a final list of conclusions, actions and advice for good practice.
1. Management/control strategies
2. Monitoring and forecasting
3. Plant protection products, breeding and policy
Selected references
Some relevant references on carrot fly biology, monitoring, forecasting, IPM and organic production (Warwick HRI):
http://www2.warwick.ac.uk/fac/sci/whri/research/integratedpestmanagement/carrotfly