Workshop on confinement conditions in laboratories
Practical Workshop on Quality Assurance for plant pest diagnostic laboratories
York, GB, 2009-05-10/15
EPPO organized a Conference on Diagnostics in cooperation with the Food and Environment Research Agency (Fera) in York. This Conference followed in the sequence of EPPO Conferences on new methods of diagnosis in plant protection, previously held in the Netherlands, in 1985, 1994, 2000 and 2004. This Conference was attended by more than 140 participants from 29 countries (including non EPPO countries: USA, Uganda, Peru, New Zealand). Most participants were experts in the field of diagnosis of plant pests, but representatives of EU organizations and private companies were also present.

The Conference was opened by Dr Jeff Waage Director of the London International Development Centre of the University of London. His talk "Putting plant health surveillance in a broader context" showed that while differences exist between the human, animal and plant disease prevention systems there are increasing similarities in approaches to diagnostics across the sectors thus synergies should be encouraged. The Participants were welcomed in Fera by Mr Wray (Director of Operations).

The following sessions were organized:
A general session covering various topics related to diagnostics in particular of viruses and bacteria.
A session on DNA barcoding and sequence based detection. The use of these techniques for diagnostics was presented as well as the recently launched European project, QBOL, which aims to develop new diagnostic tools to identify quarantine pests.
A session on novel detection methods including sound detectors, satellite imaginery on-site diagnostic tools (lateral flow devices).
A session on array based systems and new molecular methods where recent developments on genomic chips were presented.
A session on quality systems for phytosanitary diagnostics where accreditation process and validation of tests were discussed. The Director of accreditation of the United Kingdom Accreditation body attended this session and insisted that establishing a regular dialogue between accreditation bodies and laboratories is essential.
Associated workshops:
A workshop on Whole Genome Amplification (WGA). After presentations on the WGA, participants could analyse their own genomic DNA samples.
A practical Workshop on Quality Assurance for plant pest diagnostic laboratories followed on 2009-05-14/15 and consisted of practical sessions on Method validation and organization of proficiency testing, Metrology and Practical design and implementation of a quality management system.A Workshop on the implementation of the EPPO Standard PM 3/64 "Intentional import of organisms that are plant pests or potential plant pests" and the EU directive 2008/61.

Mr Verduin from the European BioSafety Association explained that harmonized of containment conditions were important for research laboratories working in different disciplines such as genetically modified organisms, biological agents and quarantine pests. In addition containment conditions should be risk based. Ms Petter presented the EPPO standard.

Mr Bishop (United Kingdom) and Ms Muller (Germany) presented how the EU directive 2008/61 was implemented in their countries and how they used the guidance provided by PM 3/64 in this context. Posters were also presented by different participants. From the discussions that followed the presentations it could be concluded that the EPPO standard gives valuable guidance and that there was no need for an in-depth revision.
Warm thanks are due to Ms Steel, Ms Hill, Mr Mumford and Mr Boohnam for the very fine organization of the Conference and a most friendly welcome in York, and also to the trainers for the theoretical sessions of the Quality Assurance Workshop Ms Antoine, Messrs Galsworthy, Hughes, Ingelbrecht and van Vaerenbergh.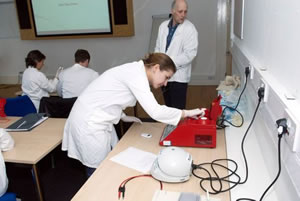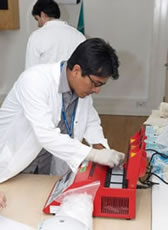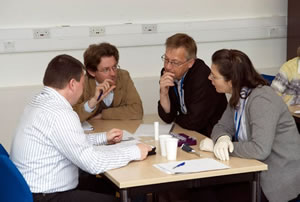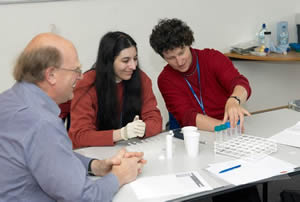 ---
Presentations
Introduction
EPPO work programme on diagnostic protocols and quality assurance
Françoise Petter (EPPO)

Putting plant health surveillance in a broader context
Jeff Waage (Imperial College, UK)
General session on diagnostics
Keynote: Role, needs and opportunities for diagnostic technology in assuring safe international movement of potato germplasm
Ian Barker (CIP, Peru)

Why do diagnostic laboratories fail farmers in developing countries and what can be done about it?
Eric Boa (Global Plant Clinic, GB)

EUPHRESCO
Alan Inman (FERA, UK)

FES: a Dutch project for strengthening the national infrastructure on plant health
Mariette Edema (Plant Protection Service, NL)

Diversity of Erwinia chrysanthemi (Dickeya sp.) from seed potatoes: analysis of plant-pathogen interaction genes and assessment of virulence
Johan van Vaerenbergh (ILVO-Crop Protection, BE)

Detection of Ralstonia solanacearum and Clavibacter michiganensis subsp. sepedonicus in different environments (soil, water, plants …)
Anne-Claire Le Roux-Nio (FNPPPT - INRA / UMR BIO3P, FR)

Diagnostic methods for phytopathogenic bacteria of stone fruits and nuts in COST873
Jaap Janse (NAK, NL)

Concentration and detection of viruses in environmental water samples
Maja Ravnikar (NIB, SI)

Biological and genetic variability among Pepino mosaic virus (PepMV) isolates and attempts to develop validated methods for PepMV detection and identification on tomato seeds
H. Josef Vetten (JKI, DE)

Pospiviroids: diagnostics and epidemiology
J.W. Annelien Roenhorst (Plant Protection Service, NL)

Keynote : Regulatory Diagnostics in the U.S., Challenges and Opportunities
Laurene Levy (USDA, US)

Differentiation of Begomoviruses and Bemisia tabaci biotypes using Real-Time PCR
Papayiannis Lambros (Agricultural Research Institute, CY)
DNA barcoding and sequence based detection
QBOL : development of a new diagnostic tool using DNA barcoding to identify quarantine organisms in support of plant health
Peter Bonants (PRI, NL)

DNA barcoding for plant biosecurity : an emerging diagnostic standard in New Zealand
Karen Armstrong (Bio-Protection Research Centre, Lincoln University, NZ)

Identification of thrips using DNA barcoding: an example from NZ
Katrin Schmidt (Sächsisches Landesamt für Umwelt, Landwirtschaft und Geologie, DE)

Use of DNA barcoding as a diagnostic tool
Linda Kox (Dept. of Diagnostics, Plant Protection Service, NL)

Next generation sequencing: applications in plant diagnostics
Rachel Glover (Fera, GB)
Novel detection methods
Keynote: Pen-side tools for the rapid detection of foot-and-mouth disease virus
Don King (IAH, GB)

Acoustic detection of statutory pests in hardwood material
David Chesmore (York University, GB)

Structure-borne sound in insects (vibratory signals produced by insects)
Andrej Cokl (NIB - Dept of Entomology, SI)

The use of satellite imagery and remote sensing techniques for the detection of disease within plants
Hugh Mortimer (RAL, GB)

Potential of the electronic nose for the diagnosis of bacterial diseases in fruit trees
Francesco Spinelli (Bologna University, IT)

The BioSeeq system as a tool for the detection and identification of plant pathogens in the field
Jason Betley (Smith Detection, GB)

Two-minute DNA extraction followed by isothermal amplification for rapid on-site detection of plant pathogens
Jenny Tomlinson (FERA, GB)

Integration of innovative fire blight diagnostics in plant inspection
Brion Duffy (Agroscope Changins - Wädenswil ACW, CH)

On-site diagnostics as a tool in statutory pathogen monitoring?
Paul Meakin (Forsite Diagnostics, GB)

Results of the PortCheck project
Neil Boonham (FERA, GB)
Advances in array-based systems & new molecular methods
Keynote: A genome chip for generalized diagnostics
Jürg E.Frey (Agroscope Changins-Wädenswil Research Station ACW, CH)

The development of microarrays as diagnostic tools for plant virology
Ian Adams (Fera, GB)

Quantitative multiplex pathogen detection using proximity dependent DNA ligation
Cor Schoen (PRI, NL)

Designing and validation of oligonucleotide probes for simultaneous multiple detection and genotyping of tomato viruses by microarray technology
Antonio Tiberini (CRA-PAV Plant Pathology Research Centre, IT)

Development and validation of real-time quadriplex TaqMan PCR and Scorpion-PCR assays for the diagnosis of the quarantine fungi causing brown spot and red band needle blight on pine
Renaud Ioos (LNPV Mycology, FR)

Development of Flash PCR test
Nataliya Sherokolava (All-Russian Centre for Plant Quarantine, RU)

Development of T-RFLP and real-time PCR techniques for phytoplasma diagnostics
Matt Dickinson (School of Biosciences, University of Nottingham, Sutton Bonington Campus, GB)
Quality systems for phytosanitary diagnostics
Keynote: How to ensure that the laboratory Quality System supports and enhances the way you work
David Galsworthy (FERA, GB)

Accreditation Bodies - how they work in Europe and beyond as partners of the laboratories
Jane Beaumont (UKAS, GB)

Reliable use of nucleic acid-based techniques for quarantine diagnostics
Martine Maes (ILVO-Crop Protection, BE)

Accreditation and reference method. Implementation in Nematology with the identification of Globodera pallida & G. rostochiensis
Géraldine Anthoine (LNPV Nematologie, FR)

IPPC programme for Diagnostic protocols
Gerard Clover (MAF Biosecurity, NZ)

Validation of a Real-time PCR detection test for P. ramorum
Anne Chandelier (Walloon Agricultural Research Centre - Dept Biocontrol, BE)

Validation of diagnostic tests example of a European cooperation regarding diagnostic tests C. michiganensis subsp michiganensis on tomato seeds (intralaboratory validation and EIL)
Valérie Olivier (LNPV, FR)

European collaborative studies for the validation of PCR-based detection tests targeting regulated fungi and oomycetes
Renaud Ioos (LNPV Mycology, FR)

Organisation of proficiency testing
Amanda Earnshaw (FAPAS, GB)
POSTERS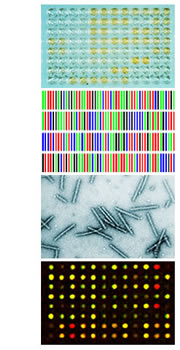 Validation of a PCR-test to detect and identify the Xanthomonas axonopodis pv. diffenbachiae strains pathogenic to Anthurium
Chabirand et al.

Implementation in an official laboratory and future plans for acquisition of applications on intentional import of quarantine pests to Denmark
Larsen et al.

Containment conditions set up at the CRA-W for quarantine fungi
Chandelier

Biosafety containment at the Dutch National reference laboratory
Derks
WORKSHOPS
Containment of biological materials: an integrated and harmonized view
Dick Verduin (European BioSafety Association, NL)

Presentation of the EPPO Standard PM 3/64 on Intentional import of organisms that are plant pests or potential plant pests
Françoise Petter (EPPO)

Implementation of Directive 2008/61/CE in England and Wales
Samuel Bishop (FERA, UK)

Implementation of Directive 2008/61/CE in Germany
Petra Mueller (JKI, DE)

Method validation and organization of proficiency testing
Johan van Vaerenbergh and Sven Ingelbrecht (ILVO-Crop Protection, BE)

Applied metrology for diagnostic laboratories (first presentation)
Applied metrology (second presentation)
Géraldine Anthoine (LNPV Nematologie, FR)