EPPO Workshop on eradication, containment
and contingency planning
Nova Gorica, Slovenia, 2009-02-10/12
Introduction
PPOs face the challenge of how to respond rapidly and effectively to pest outbreaks. Often they are successful and succeed in eradicating the pest. Sometimes it takes more time and resources than first anticipated and in certain cases the original objectives of the eradication campaign may need to be reviewed.

Many EPPO members are developing contingency plans for pests which may cause a major economic and/or environmental impact. EPPO responded to this trend by developing the standard Generic elements for contingency plans. Also new standards for important pests are developed in the series PM 9 National regulatory control systems. This should facilitate EPPO members to draft their own pest specific contingency plans.

The increased emphasis on eradication and contingency planning in EPPO's work programme should also contribute to the EU project PRATIQUE, in particular the task to develop a decision support system for the eradication and containment of pest outbreaks (WP5). In order to collect and exchange experiences with eradication a workshop was organized for those who are involved in eradication campaigns or contingency planning in their country. Participants considered also whether the new EPPO standard on contingency plans is complete in listing all important generic elements which should be part of a contingency plan.
Fifty two experts from 25 countries participated in the workshop. Several experts involved in PRATIQUE-WP5 also participated in the workshop, which provided an excellent opportunity to exchange experiences of risk managers and scientists, and to discuss the necessary tools to support them in eradication campaigns. The EPPO Secretariat and participants are very grateful for the excellent arrangements, prepared by the Slovenian plant protection service, in particular Vlasta Knapic, Alenka Grivec and Gabrijel Slejak.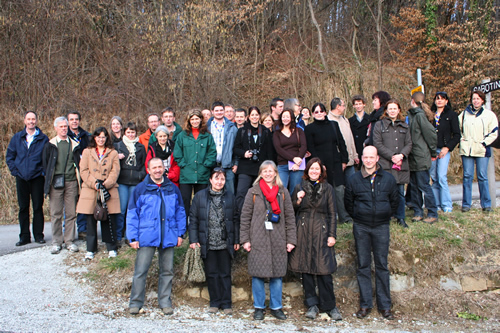 Participants - View more pictures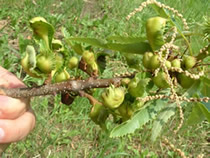 Damage of Dryocosmus kuriphilus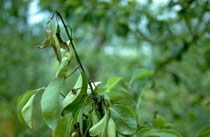 Fireblight symptoms (Erwinia amylovora)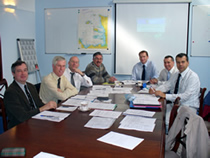 Colorado beetle campaign committee (Jersey, 2007)
Presentations
PRATIQUE: overview of the project on collection of data on eradication campaigns
T. Pluess (CH)

Emergency response for the first outbreak of potato ring rot in the UK
N. Giltrap (GB)

First outbreak in 2008 of Plum pox virus in Denmark since 1986
C. Scheel (DK)

Eradication of Scirtothrips dorsalis in a tropical botanical collection under glass in the UK
H. Long (GB)

Eradication of Colorado potato beetle in Finland
S. Hannunen (FI)

Contingency measures to prevent the further spread of Rhynchophorus ferrugineus in Cyprus with the aim of eradication
A. Melifronidou - Pantelidou (CY)

Lymantria dispar control using pheromones in Jersey, Channel Islands
S. Meadows (JS)

Biological control (suppression) of Lymantria dispar populations in different regions of Russia
M. Mironova (RU)

Eradication of Bactrocera cucurbitae from the Seychelles
J. Knight (GB)

Experience with containment of Eutypella parasitica in Slovenia
N. Ogris (SI)

Eradication of Phytophthora ramorum in Slovenia
A. Benko-Beloglavec (SI)

The finding of Phytophthora kernoviae on commercial nursery stock
H. Long (GB)

Phytophthora ramorum & P. kernoviae - the Woodland Perspective
D. Tracy (GB)

Eradication of chestnut blight: was it justified and what are the lessons learnt? (pdf)
D. Jurc (SI)

Internet sales of plants for planting - an increasing trend and threat?
N. Giltrap (GB)

Eradication and containment of harmful organisms in greenhouses in Slovenia
R. Licen (SI)

An important first step to a Swedish contingency plan for the pinewood nematode, Bursaphelenchus xylophilus
I. Åkesson (SE)

Review of contingency plans in Italy
E. Petrucco Toffolo (IT)

Overview of EPPO work on eradication and containment. Presentation of the draft Standard Generic elements for contingency plans
N. van Opstal (EPPO)

Case study: Anoplophora chinensis and A. glabripennis
M. Ciampitti (IT)

Anoplophora chinensis in the Netherlands
M. Steeghs (NL)

Experience on a survey for Anoplophora glabripennis found in wood packaging material in Denmark in 2008
C. Scheel (DK)

Experience with Anoplophora chinensis in Croatia
R. Brlek Greco (HR)

Eradication campaign against oriental chestnut gall wasp Dryocosmus kuriphilus in Slovenia
Ms Vlasta Knapic and Mr Gabrijel Seljak (SI)

Difficulties of an eradication campaign of Dryocosmus kuriphilus in the Region Veneto
M. Zampini (IT)

Case study: Diabrotica virgifera virgifera
P. Baufeld (DE)

Experience with Diabrotica virgifera virgifera in Veneto region
M.Vettorazzo (IT)

Eradication of Diabrotica virgifera virgifera in Belgium
L. Swillens (BE)

Experience with Diabrotica virgifera virgifera in the Netherlands
E.J. Scholte (NL)

Containment program of Diabrotica virgifera virgifera in Slovenia
E. Oresek (SI)

Case study: Erwinia amylovora
M. Kurzweil (AT)

Fireblight (Erwinia amylovora) in Ireland
W. Larkin (IE)

Experience with Erwinia amylovora in Latvia
A. Pence (LV)

Eradication and containment of Erwinia amylovora in Slovenia
J. Jerman Cvelbar (SI)

Eradication of Erwinia amylovora in Lithuania
G. Lapinskas (LT)
Objectives for the Workshop
Key objectives for the workshop were:
To exchange experiences with eradication campaigns and draw general lessons from these experiences
To analyze selected cases of eradication and identify success factors in responding to these outbreaks
To discuss critical elements in drafting pest-specific contingency plans, based on the draft EPPO Standard Generic elements for contingency plans
To reflect on the implications of ISPM No. 9 Guidelines for pest eradication programmes
Workshop conclusions: critical factors for sucessful eradication
On the first day of the workshop many participants gave a presentation of specific experiences they have in their country with eradication. In total 17 cases were presented and discussed (and in addition the relevant standards and the project PRATIQUE were presented).

The next two days were dedicated to the study and discussion of four cases of eradication: Anoplophora chinensis & A. glabripennis, Dryocosmus kuriphilus (including a field trip to see the practical difficulties of eradication), Diabrotica virgifera virgifera and Erwinia amylovora. The exchange of experiences on a large number of eradication cases and the detailed discussion of the 4 specific cases provided substantial material from which to list the main critical factors for successful eradication. These factors can be categorized as follows: biological factors; cost/benefit factors; and operational factors.
Biological factors
Workshop participants stressed that preventing the introduction of new pests should be the first priority, particularly concerning plants for planting. Several biological factors were considered critical for which the general information is available but which need to be specified for the location of the outbreak. Among these were: life cycle, optimal flying period, preferred hosts and minor hosts, effect of population density of the pest or host.

Detection of the pest is essential to initiate eradication measures. In that respect there are uncertainties regarding the reliability of testing, detection, and trapping methods and several aspects in that regard were discussed in detail.

Although the focus of the workshop was on eradication, changing the objective to containment was also discussed. It was noted that there is limited experience regarding the efficacy of containment measures and often the proposed containment measures only slow down the spread of the pest.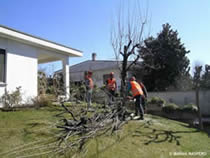 Eradication of Anoplophora chinensis
in Lombardia (© M. Maspero, IT)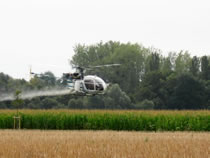 Aerial treatment against Diabrotica
virgifera virgifera. B. Genton,
SRPV Ile de France (FR)
Cost/benefit factors
In all four case studies, important critical factors for successful eradication were considered in terms of financial resources and cost/benefits. Even for well known diseases like fireblight (Erwinia amylovora), questions related to cost/benefit factors were difficult to answer. Participants felt that there was a need for tools and data to support them in dealing with these factors.
Operational factors
Participants acknowledged the benefit of developing contingency plans for important pests and several countries are working on such plans. Development of guidance on official control of major pests is important. Contingency plans also help to address operational problems before they arise. It saves time by avoiding lengthy deliberations and helps to prepare a quick and effective response in an outbreak situation. For pests which are difficult to control, it is even more critical to be able to eradicate them at an early stage.
Follow-up
Participants agreed that it is very important to develop further tools to guide actions to be taken in case of outbreak situations. The EU project PRATIQUE aims to develop such tools and participants were interested to test such tools at a later stage. Many participants would like to gain more experience with contingency planning. EPPO Secretariat plans to organize a follow–up workshop in 2010.