47th Meeting of the Working Party on Phytosanitary Regulations
Las Palmas de Grand Canaria, Spain, 2009-06-16/19
The 47th meeting of the Working Party on Phytosanitary Regulations took place in Las Palmas de Grand Canaria, on 2009-06-16/19 at the kind invitation of the Spanish NPPO.
The Working Party reviewed the work of the Panels placed under its authority, directed their future work, and made a number of recommendations to EPPO Council. It also discussed global phytosanitary issues.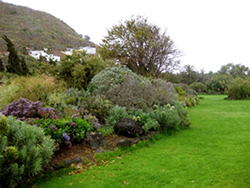 EPPO Standards
The following EPPO Standards were considered ready to be submitted for approval by the Executive Committee and Council in September 2009:
General Phytosanitary Measures (series PM 1) – revision of PM 1/2, by:

Addition of the following pests to the List of pests recommended for regulation:
Pests absent from the region (A1) Xanthomonas axonopodis pv. allii;
Pests present in the region (A2): Metamasius hemipterus, Heracleum sosnowskyi and Heracleum persicum.
Deletion of Lysichiton americanus from the A2 List of pests recommended for regulation.
Transfer of pests from the A1 to the A2 List: Agrilus planipennis, Aleurocanthus spiniferus, Tuta absoluta.
Phytosanitary procedures (series PM 3)

Elements common to inspection of places of production, area-wide surveillance, inspection of consignments and lot identification PM 3/72 (2)

EPPO Guidelines for the Code of conduct on horticulture and invasive alien plants PM 3/74 (1)
Production of Healthy Plants for Planting (series PM 4)

Certification scheme for Rubus PM 4/10(2)

Certification scheme for Hop (Humulus lupulus) PM 4/16 (2)
Soil test for virus-vector nematodes in the framework of EPPO Standards PM 4 Schemes for the production of healthy plants for planting of ligneous plants and strawberry PM 4/35 (1)
Pest Risk Analysis (series PM 5)

Decision-support scheme for quarantine pests PM 5/3 (4)
Phy Diagnostics (series PM 7)

Anisogramma anomala PM 7/90 (1)
Gibberella circinata PM 7/91 (1)
Gremmeniella abietina PM 7/92 (1)
Guignardia citricarpa revision PM 7/17 (2)
Melampsora medusae PM 7/93 (1)
Monilinia fructicola revision PM 7/18 (2)
Bursaphelenchus xylophilus revision PM 7/4 (2)
Globodera rostochiensis and G. pallida revision PM 7/40 (2)
Hirschmaniella spp. PM 7/94 (1)
Nacobbus aberrans sensu lato revision PM 7/5 (2)
Xiphinema americanum sensus lato PM 7/95 (1)
Xanthomonas axonopodis pv. dieffenbachiae PM 7/23 (2)
Xylophilus ampelinus PM 7/96 (1)
Immunofluorescence test PM 7/97 (1)
Specific requirements for laboratories preparing for accreditation for plant pest diagnosis activities PM 7/98 (1)
Commodity-specific Phytosanitary Measures (series PM 8):

Commodity-Specific Phytosanitary Measures Coniferae PM 8/2 (1)
National regulatory control systems (series PM 9):

Eichhornia crassipes PM 9/8 (1)
Heracleum mantegazzianum, H. sosnowskyi and H. persicum PM 9/9 (1)
Generic elements for contingency plans PM 9/10 (1)
Phytosanitary Treatments (series PM10):

Disinfestation of production site against Bemisia tabaci PM 10/13 (1)
Disinfestation of production site against Liriomyza sativae PM 10/14 (1)
Disinfestation of production site against Thrips palmi PM 10/15 (1)
Hot water treatment of grapevine to control Viteus vitifoliae PM 10/16 (1)
CPM issues
The Working Party was informed about the subjects discussed by the Commission for Phytosanitary Measures and by the Standards Committee.

The importance of improving pest reporting by EPPO members was emphasized and it was recommended that a questionnaire should be sent to EPPO countries to investigate the main difficulties in fulfilling the pest reporting obligations. It was also suggested that the EPPO Secretariat should investigate if it can be possible for EPPO members to provide pest reports to IPPC through EPPO on a voluntarily basis.

The Working Party also discussed potential new topics for ISPMs and it was agreed that a standard on "international movement of seeds" should be suggested given the importance of this trade, in particular to include elements on seed transmitted pests.
Strategic plan for 2010-2014
The Working Party broadly agreed with the proposed EPPO strategy for 2010-2014 and supported that work on PRA, information and documentation, and pest eradication and containment should receive a high priority.
Editorial policy of EPPO publications
Participants expressed their satisfaction with the EPPO website and information services which constitute a highly valued source of information in their NPPOs. Regarding the EPPO Bulletin, it was stressed that more articles should be published on eradication of pests and on "lessons learned".
Pest risk analysis
The Working Party reviewed the system established to perform PRA in the EPPO region and concluded that the Expert Working Groups for PRA should continue to operate on the basis of the current procedures. It highlighted the need for EPPO to perform more pathway analysis and recommended that ways to achieve this should be explored further. The Working Party confirmed that national PRAs can constitute a basis for EPPO recommendations and agreed that the guidelines to review national PRAs developed in 2008 should be used at the next Panel on phytosanitary measures and a report on the process presented. The Working Party established a list of pests for which PRA should be performed or evaluated in 2009-2010: Expert Working Groups for PRA should be organized in order of priority for Saperda candida, Phytophthora kernoviae (to broaden the UK PRA for the region), Epitrix spp., Phytophthora pinifolia, Tomato viroids and Halyomorpha halys.
Other issues
The Working Party discussed a proposed revision of PM 9/1(1) regarding a national regulatory control system for Bursaphelenchus xylophilus. It emphasized the importance of this revision but could not agree on the draft. It recommended that the Panel on quarantine pests for forestry should address the comments from the Working Party and that the outcome should be reported to the Council.
The Working Party discussed the initiation of new activities regarding diagnostics. Several Panels on diagnostics have identified a need to collect validation data for tests included in EPPO diagnostic protocols. The Working Party on Phytosanitary Regulations welcomed this initiative but noted that there should be a commitment of laboratories to provide such information.
Finally the Working Party discussed the situation of Chalara fraxinea, a pest increasingly observed in European countries on ash trees (Fraxinus excelsior) in the last ten years. The Working Party recommended organizing a Workshop in particular to discuss how to control this pest when found (e.g. good practice). This workshop is planned on 2010-07-01/02 in Norway.