13th Meeting of the Panel on Efficacy Evaluation of Herbicides and Plant Growth Regulators
Milano, IT, 2014-04-09/11

The 13th Meeting of the Panel on Efficacy Evaluation of Herbicides and Plant Growth Regulators (PGRs) took place in Milano (Italy), on 2014-04-09/11. Special thanks are due to Mr Cavagna and his colleagues for the warm hospitability and fine organization of this meeting.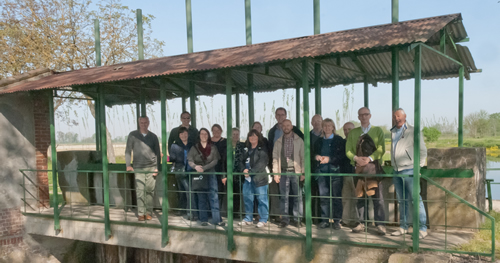 Participants - View more pictures >
The Panel continued its main work on the preparation of Standards for conducting field trials to evaluate the efficacy of herbicides and plant growth regulators. The following revised and new Standards were reviewed by the experts and it was concluded that all of them still need further work:
Revision PP 1/182 Chemical hybridizing agents in cereals (except maize)
Revision PP1/185 Regulation of growth in olive (except sucker control)
Revision PP1/184 Regulation of growth in citrus revision
Control of suckers in orchards (new)
Weeds in Asparagus officinalis (new)
Three revised general Standards were also reviewed to address herbicide and PGR specific issues:
PP 1/135 Phytotoxicity assessment and PP 1/214 Principles of acceptable efficacy which had both been sent for country consultation prior to the Panel and that this Panel found satisfactory.
PP 1/213 Resistance risk analysis.
The issue of resistance risk analysis for herbicides was discussed by the Panel to reflect the outcomes of the EPPO Workshop on Herbicide Resistance Analysis in the framework of Zonal Evaluation. The paper published by Mr Moss was also examined by the Panel and it was agreed that the methodologies described constitute a very useful basis for a harmonized approach (Moss, S.R. 2001 Baseline sensitivity to herbicides: a guideline to methodologies. In: Proceedings 2001 BCPC Conference – Weeds, 769-774).
The Panel also discussed the conclusions and action points from the EPPO Workshop on Experiences with implementation of zonal evaluation of Plant Protection Products and two new extrapolation tables for effectiveness of herbicides and PGRs for poppy as a minor crop were developed.
The Panel visited Lomellina, an area of Lombardia (Italy) which is one of the most important regions for rice production in the EPPO region. This provided an excellent opportunity for the Panel experts to learn more about the different rice seed cultivation techniques (dry- and water-seeding) and clarify some of the aspects which are covered by EPPO Standard PP 1/062(3) Weeds in water-seeded rice and extrapolation table for weeds in Spring cereals including dry-seeded rice. Thanks are due to Mr Quaglini (BASF) for the explanations during the field trip and the useful material available below.
Presentations by Mr Quaglini (BASF)
Rice in Italy and in Europe (part I)
Rice in Italy and in Europe (part II)