20th Meeting of the Panel on Phytosanitary Measures for Potato
Lille, FR, 2014-02-12/13
The Panel on Phytosanitary Measures for Potato held its 20th meeting in Lille (FR) on 2014-02-12/13.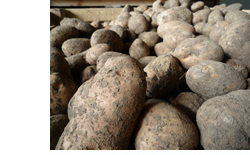 A short Workshop on Phytosanitary risks associated with soil attached to potato tubers and potato waste was organized back to back with the Panel meeting. As a result, it was agreed that further guidance may be developed by the Panel to address risks posed by soil in the potato chain.
The Panel finalized a phytosanitary procedure on the sampling of unwashed ware potato tubers to detect Globodera rostochiensis and G. pallida (at import or at export). It agreed to send the draft for country consultation.
The Panel reviewed 3 draft regulatory control system Standards (in series PM9) on:
Epitrix species damaging potato tubers
'Candidatus Liberibacter solanacearum' and its vector Bactericera cockerelli
Globodera rostochiensis and G. pallida
The work on these 3 drafts will carry on at the next Panel meeting. The revision of PM 8/1(1) Commodity-specific phytosanitary measures for potato was postponed.