9th Meeting of the Resistance Panel on Plant Protection Products
Paris, 2014-09-17/18
The Resistance Panel on Plant Protection Products met at the EPPO Headquarters on 2014-09-17/18.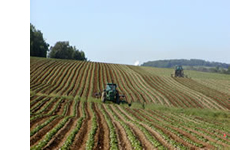 A regular topic on the agenda is the update from Panel members on the cases of resistance reported in their countries. Mr Genet informed the Panel of recent developments in Fungicide Resistance Action Committee (RAC) and Ms Salas updated the group on the recent weed resistance cases highlighted by the European group of the Herbicide RAC (click on the links to access to the respective presentations).
Governing principles for fungicide-resistance management tactics
Mr Paveley presented the results of a project funded by UK's Chemicals Regulation Directorate (CRD) conducted in cooperation with Rothamsted Research and Curtin University (Australia) and published in the article Governing principles can guide fungicide-resistance management tactics (van den Bosch et al. (2014) Annual Review of Phytopathology 52, 175-195). This involved an analysis of the effectiveness of fungicide resistance management strategies and development of generic principles to help predict losses of resistance and support the development of appropriate strategies when a new mode of action is introduced. Two specific examples of application of the governing principle to fungicide resistance modifiers for mixtures of azoles and Succinate Dehydrogenase Inhibitors (SDHIs) and for integrated control were also presented in detail (Global analysis of resistance modifiers).
Fungicide resistance risk analysis
The Panel discussed the revision of EPPO Standard PP 1/213 Resistance risk analysis to include the research carried out in the framework of the project funded by CRD ; Underpinning regulatory decisions on fungicide resistance risk assessment and management strategies (Resistance risk assessment) which are published in the papers:
Fungicide resistance risk assessment based on traits associated with the rate of pathogen evolution (Grimmer et al. (2014) Pest Management Science. doi 10.1002/ps.3781).
Evaluation of a matrix to calculate fungicide resistance risk (Grimmer et al. (2014) Pest Management Science. doi 10.1002/ps.3646).
Participants also discussed two other issues:
The need for an Alert list of suspected cases. The Panel agreed that possibilities for an alert list reporting suspected cases of resistance in the EPPO countries should be explored as a useful information-sharing tool to support the detection of resistance cases at an early stage.
Monitoring activities on resistance. The Panel drafted a statement, for consideration by the Working Party on Plant Protection Products, to raise awareness at government level of the importance of resistance monitoring.
It was proposed that the Panel will next meet on 2015-09-16/17 in Harpenden (UK) in conjunction with the 'Rothamsted Conference' on pesticide resistance taking place on 2015-09-14/16.

Further information related to EPPO Resistance activities is available by clicking here with links to useful resource information.