What's New in the EPPO Database on Diagnostic Expertise
The EPPO Database on Diagnostic Expertise has been transferred to a new redesigned and more user-friendly interface on the 4th of May 2020.
Access the EPPO Database on Diagnostic Expertise – http://dc.eppo.int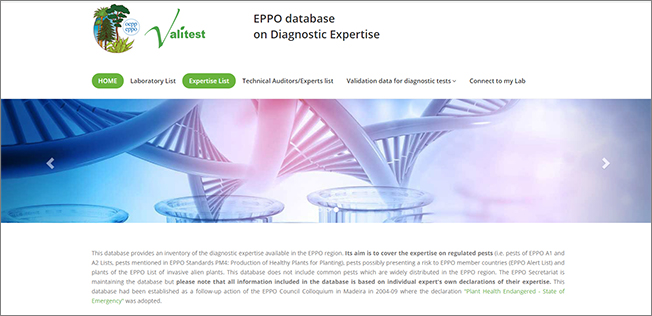 The EPPO Database on Diagnostic expertise includes a specific section on validation data for diagnostic tests. Laboratories can deposit online validation data that they have generated on specific tests and these can be made visible to all users of the database. The validation data can then be retrieved from the database in the form of a PDF file including the description of the test evaluated (pest x matrix x method) and the performance data related to the test (the information is presented in a harmonized format).
One of the objectives of VALITEST

was to improve the searching capacity of the database to ensure optimal use. In order to evaluate the needs of users a survey was organized (see deliverable 6.2). Further needs were identified during meetings with users (e.g. EPPO Panels on diagnostics, mid-term conference). The features identified that have been implemented include:
Allow searches to be made using key words for specific descriptors such as pest, method, plant species, matrix, EPPO-IPPC test
Allow combined and flexible queries to be made and, in particular, multiple pest queries
Allow sorting of information within different methods, in particular for molecular and serological methods
Allow searches of tests used for detection, identification or both
Allow searches to be made on kits with the possibility to specify whether the kit was used according to manufacturer's instructions
Provide examples on the way EPPO would like laboratories to enter their data.
This transfer allowed the improvements of all the sections of the website. In particular, the data on laboratories and expertise are now also more easily searchable.